Small Business Profile: Ginger Elizabeth Chocolates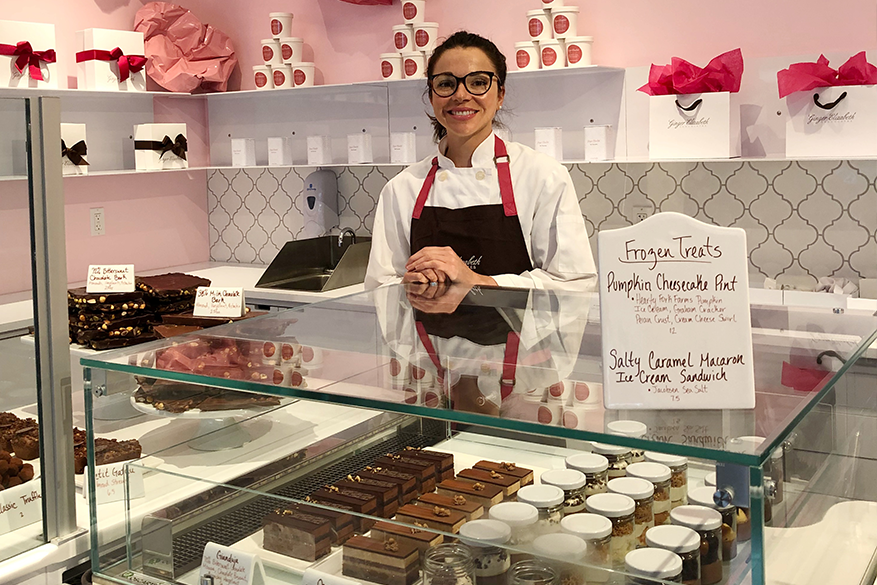 Ginger Elizabeth Chocolates
LOCATION: Sacramento, San Francisco
LENDING PARTNERS: California Capital FDC, The Merchants National Bank
ABOUT Ginger Elizabeth Chocolates:
Ginger Elizabeth Hahn hails from a family of home bakers – her mother, the maven of quick breads and biscuits; her grandmother, the household doyenne of yeasted bakes. Growing up in Camino, CA in the heart of "Apple Hill" meant that deliriously juicy fruit punctuated Ginger's childhood. She recalls picking blackberries by the pond in summer and harvesting apples come fall, transforming peak ingredients into tempting creations.
After receiving a certificate in Hotel, Restaurant, and Culinary Management she went on to study pastry at the CIA in Hyde Park, graduating top of her class and receiving the prestigious IACP scholastic scholarship for the culinary arts.
In 2002, Ginger landed an externship at the newly opened Jacque Torres chocolate shop in New York further honing her skills as a chocolatier and learning how to make pralines, one of her favorite techniques. After graduation, she accepted a position at the Ritz Carlton in Chicago under the tutelage of En-Ming Hsu, gold medalist at the 2001 World Pastry Cup. It was here that Ginger began to develop, test, and retest her own recipes under the guidance of En-Ming Hsu, developing a confidence in her creativity as well as an appreciation for the meticulousness of the process. It is this drive for perfection and attention to even the smallest details that continue to inform Ginger Elizabeth Chocolates.
Ginger Elizabeth Chocolates pivoted from wholesale to retail with the first brick-and-mortar shop opening in Sacramento in 2008 followed by another in San Francisco in 2017. Ever-refining her craft, Ginger enjoys dissecting the science behind confections, teaching classes, and sharing her love of all things chocolate.
FIND THEM ONLINE: gingerelizabeth.com